Scientific Name
Aloe vera (L.) Burm.f.
Common Names
Aloe Vera, Medicinal Aloe, Barbados Aloe, Chinese Aloe, Indian Aloe, Medicine Plant, True Aloe, Burn Aloe, First Aid Plant, Bitter Aloe, Wand of Heaven, Miracle Plant, Savila
Synonyms 
Aloe vera var. chinensis, Aloe vulgaris, Aloe vera var. lanzae, Aloe indica, Aloe barbadensis var. chinensis, Aloe vera var. wratislaviensis, Aloe elongata, Aloe vera var. littoralis, Aloe perfoliata var. vera, Aloe perfoliata var. barbadensis, Aloe flava, Aloe chinensis, Aloe barbadensis, Aloe lanzae
Scientific Classification
Family: Xanthorrhoeaceae
Subfamily: Asphodeloideae
Genus: Aloe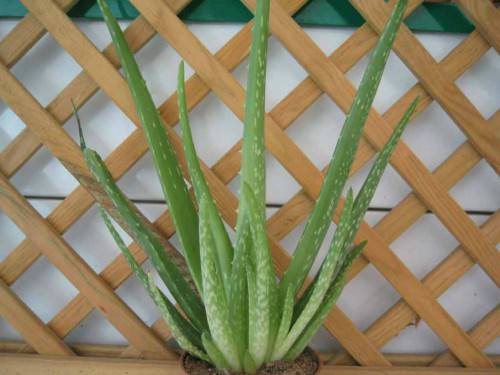 Description
Aloe vera is a stemless or very short-stemmed succulent plant growing to 24 – 39 inches (60 – 100 cm) tall, spreading by offsets. The leaves are thick and fleshy, green to grey-green, with some varieties showing white flecks on the upper and lower stem surfaces. The margin of the leaf is serrated and has small white teeth. The flowers are produced in summer on a spike up to 35 inches (90 cm) tall, each flower being pendulous, with a yellow tubular corolla 0.8 – 1.2 inches (2 – 3 cm) long.
Origin
Native to the arid regions of north-eastern and southern parts of Africa and Madagascar.
Uses
A legend says that Alexander the Great led the battle to occupy the island of Socotra (now Yemen) in 333 BC, to reach as many fresh Aloe vera as possible, and the only reason is – the juice of Aloe Vera helped to heal the wounds of his soldiers… – See more at: Aloe Vera – Health & Beauty Benefits.
Links
GO TO the list of succulents in the genus Aloe;
BROWSE succulents by Genus, Family, Scientific Name, Common Name or Origin, and cacti by Genus;
or SHOP NOW at Amazon.com or CactusPlaza.
Photo Gallery