Scientific Name
Aloe aristata Haw.
Common Names
Lace Aloe, Torch Plant
Scientific Classification
Family: Xanthorrhoeaceae
Subfamily: Asphodeloideae
Genus: Aloe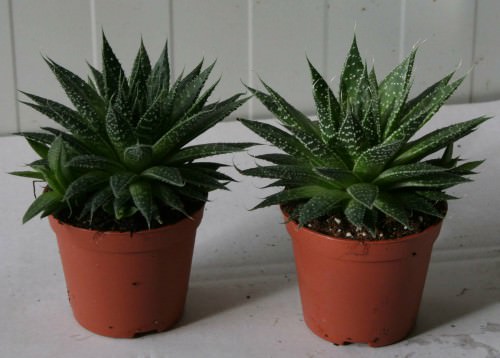 Description
Aloe aristata is a stemless, no more than 8 to 12 inches (20 to 30 cm) tall, clump-forming succulent with dense rosettes of stubby, lance-shaped, toothed, white-margined, dark green leaves, 3 to 4 inches (7.5 to 10 cm) long, with small white spots and soft white spines, particularly beneath. In the fall, produces terminal panicles, to 20 inches (50 cm) tall, 2 to 6 branched, bearing cylindrical, orange-red flowers, to 1 1/2 (4 cm) inches long.
Origin
Lesotho, South Africa (Northern Cape, Western Cape, Eastern Cape, Free State, KwaZulu-Natal)
How to Grow
Easy to grow, requiring very little care, ideal choice for novice gardeners. Plant in well drained, rich soil in full sun or partial shade. See more at: How to Grow Aloe aristata
Uses
The Pondo people use the juice of Lace Aloe mixed with water to wash their bodies – See more at: Lace Aloe Juice to Refresh Body and Mind
Shop Now
Links
→ Aloe A-Z
→ Other Succulents: Genera A-Z
→ Cacti: Genera A-Z
Photo Gallery